One of my favorite activities during the summer is enjoying a fabulous meal outdoors. There's something so rustic and charming about spreading out a blanket, enjoying the sunshine, and dining with people I love. Who doesn't love a good old summer picnic?
That said, enjoying a gorgeous and memorable picnic can take some planning. After all, not all color palettes work well outdoors, and some foods don't fare well under the hot summer rays. To help make it easier to throw your own park date or lawn-based dinner party, I've put together an overview of my own favorite "tablescape" for the summer.
Enjoy an elegant meal outdoors with these simple but elegant summer picnic tips.
Tip #1: Your blanket is your tablecloth
Rather than using a tablecloth as the background to the art piece that is your tablescape, the tone for your design is set by the blanket you use. So, while comfort is definitely important for a piece that you'll sit or even lie on, you also want a blanket that contributes to your overall color scheme.
For my table setting, I went with a neutral hazelnut color, complementing it with pale dogwood pillows and some bright white flourishes. Because spring color trends are still in full effect, much of my inspiration drew from Pantone's spring 2017 fashion color report. Many of the accent items were also inspired by these trends. Some include the kale color of the San Pellegrino bottles and the flame label of the champagne bottle. There's even the pink yarrow of the flowers. Plus, all of these colors work great against the green grass and island paradise hue of the sky! Perfect for a fun summer picnic!
Tip #2: Stay hydrated
Whatever delicious cocktail or rosé you may be enjoying while lounging on the lawn, remember that it's also important to stay hydrated in the summer heat. This means to also include a few bottles of water that contribute as much to your design as your health. I love bringing in some simple glass bottles or a gorgeous pitcher. Even some sparkling water with a distinctly European flair will add to the design.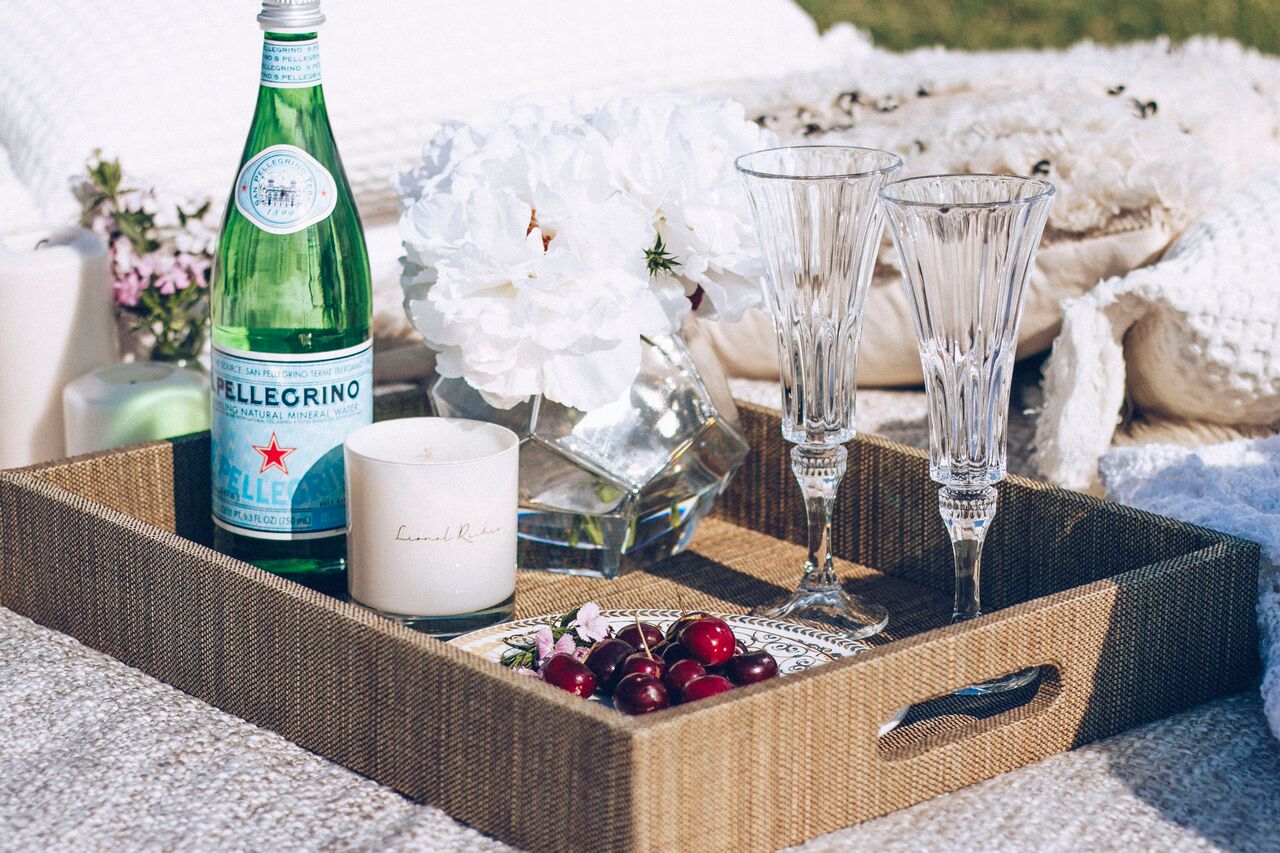 Tip #3: Use some truly stunning china
While some picnickers prefer paper or plastic plates, I prefer using my favorite chinaware from our Lionel Richie Home Collection (my dishes were from the London and Riviera lines). They mix and match so well that it's easy to make a fun and sophisticated pairing.
Just don't forget to pair that china with some equally gorgeous stemware. Manhattan champagne flutes would be perfect and are also from the Lionel Richie Home Collection.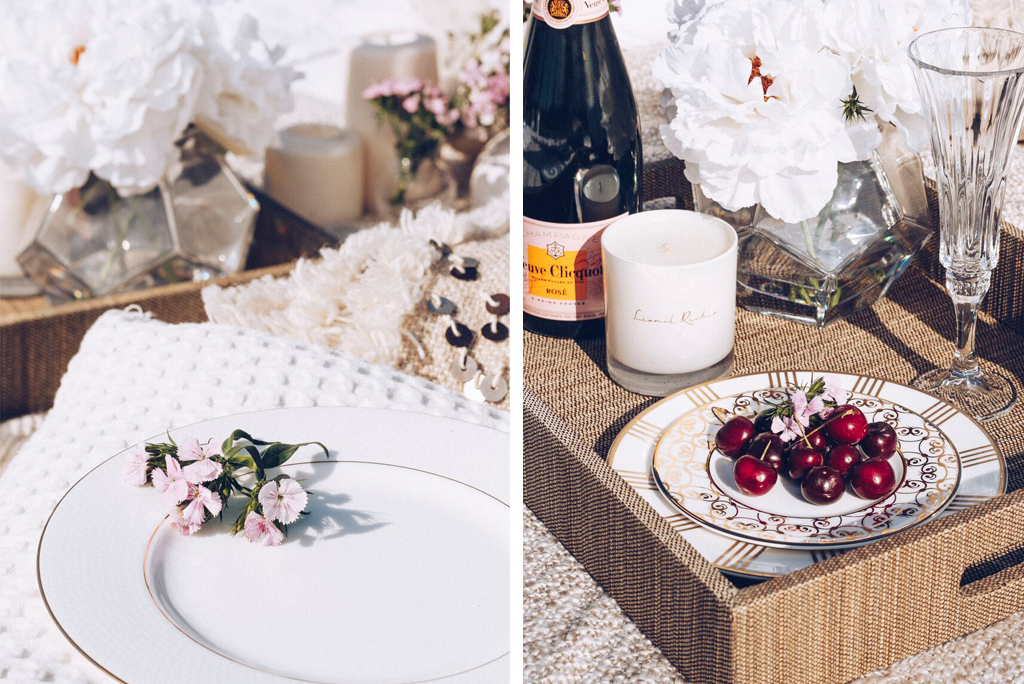 Tip #4: Bring it all together for a Summer Picnic
I love finishing my design with some deliciously natural elements, including small sprigs of flowers, a few candles from The Estate Collection, a wooden tray, and a simple wicker basket. I also brought a few crochet towels which serve both as cloth napkins and packaging protection for my china.
The most important part, however, is sharing your experience with people you love. After all, there's nothing that brings an event together like laughter, great memories, and wonderful company.