Spring is in full bloom, and I'm loving the fresh air, the scent of blossoming flowers, and the colorful foliage of this vibrant season. Another thing I love about this time of year is Easter. It's the perfect opportunity to gather family and friends and celebrate. Designing a festive Easter table setting can be a fun activity for the entire family!
As with any occasion, no celebration would be complete without a fabulous table setting to set the tone for the event. In anticipation of Easter Sunday this coming weekend, I've brought together a few of my favorite Easter table setting elements to provide a little inspiration for those of you planning to entertain this Easter.
In keeping with the spring spirit, I designed a fun and youthful table for the enjoyment of adults and children alike. In addition, I even incorporated some of the pastel color palette that I shared last week!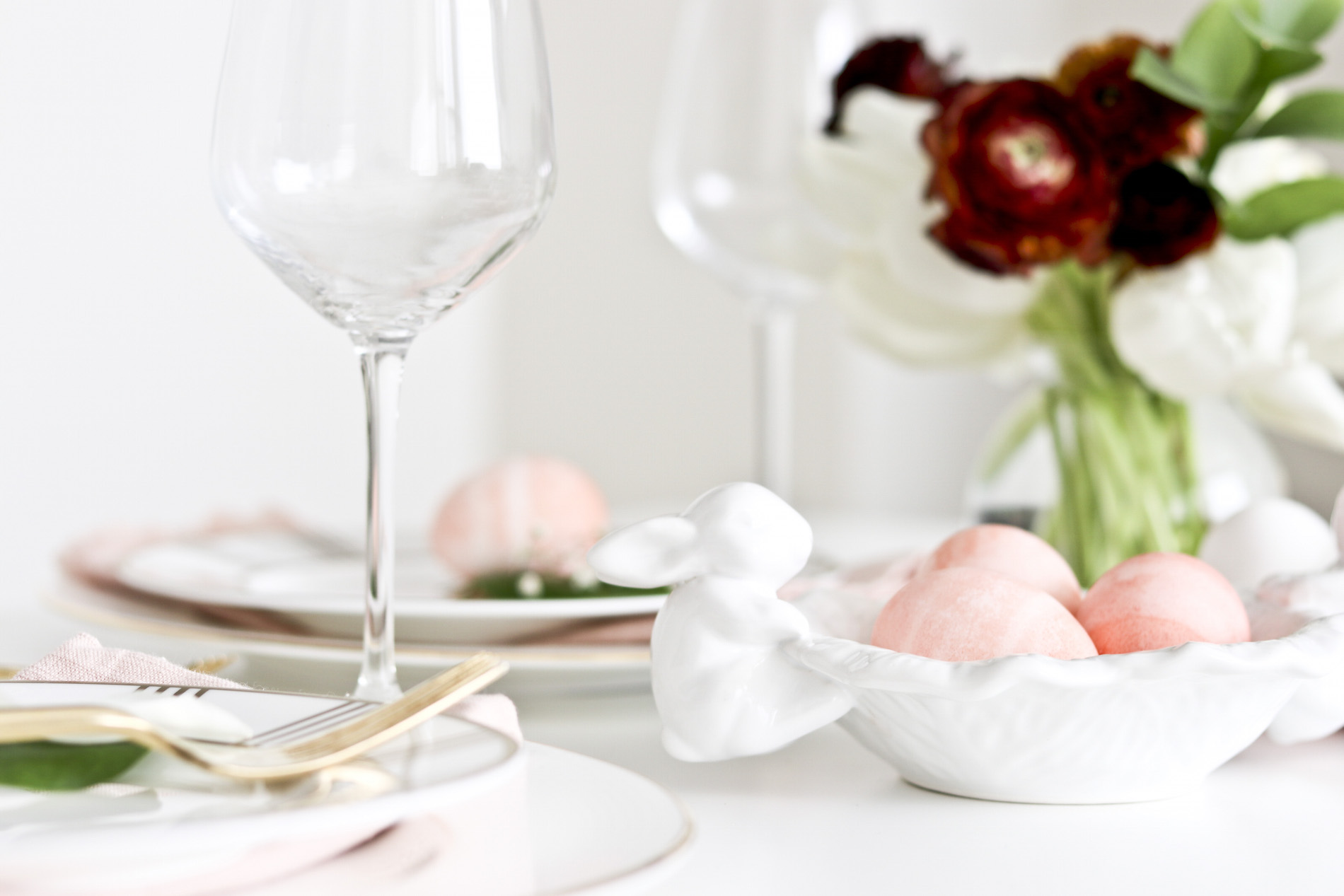 Most Important Easter Table Setting Elements
Much of the symbolism that we associate with Easter focuses on birth, rebirth, and babies. Think of decorated eggs, blooming flowers, fresh grass, and of course the cute little bunnies themselves.
I like to think of the spring as the chance for a clean slate. It's the opportunity to pick up any discarded New Years' resolutions and set goals to last for the rest of the year. Something about all of the rain and baby animals just makes it seem as though anything is possible! To set the stage for this mentality of renewal, I started my tablescape with a plain but elegant white tablecloth. This neutral hue also complements the light color palette of the season, making it a perfect fit.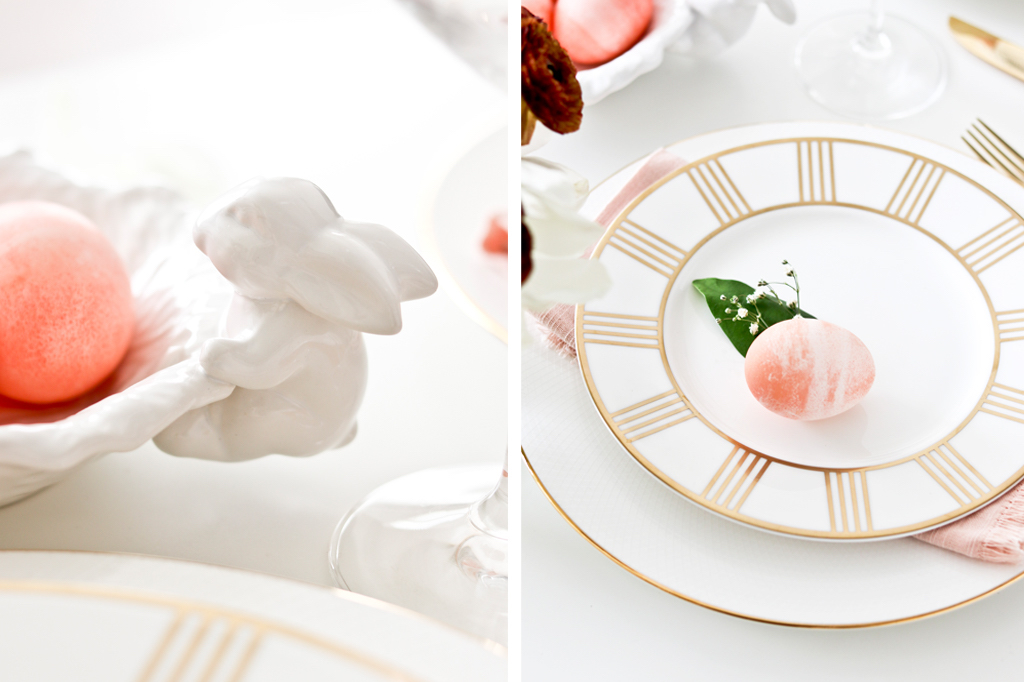 When was the last time you tried dyeing some hard-boiled eggs? I thought, why not give in to the youthfulness of the season by trying out this practice again? As an adult, you can bring a skilled artistic eye to egg painting that renders gorgeous designs. Plus, it's a lot of fun dyeing the eggs! I like to use a bit less dye or submerge my eggs for less time to color them in pastel shades. These are perfect for a spring-themed table setting.
As another symbol of spring, any budding blossom makes a fabulous statement for an Easter tablescape. Just follow your heart—or nose—to your favorite flower and let your intuition be your guide. You might even choose some especially dark or bright flowers to accent your table. Adding a pop of color provides a gorgeous "wow" factor. Plus, the scent offered by these blooms is absolutely divine!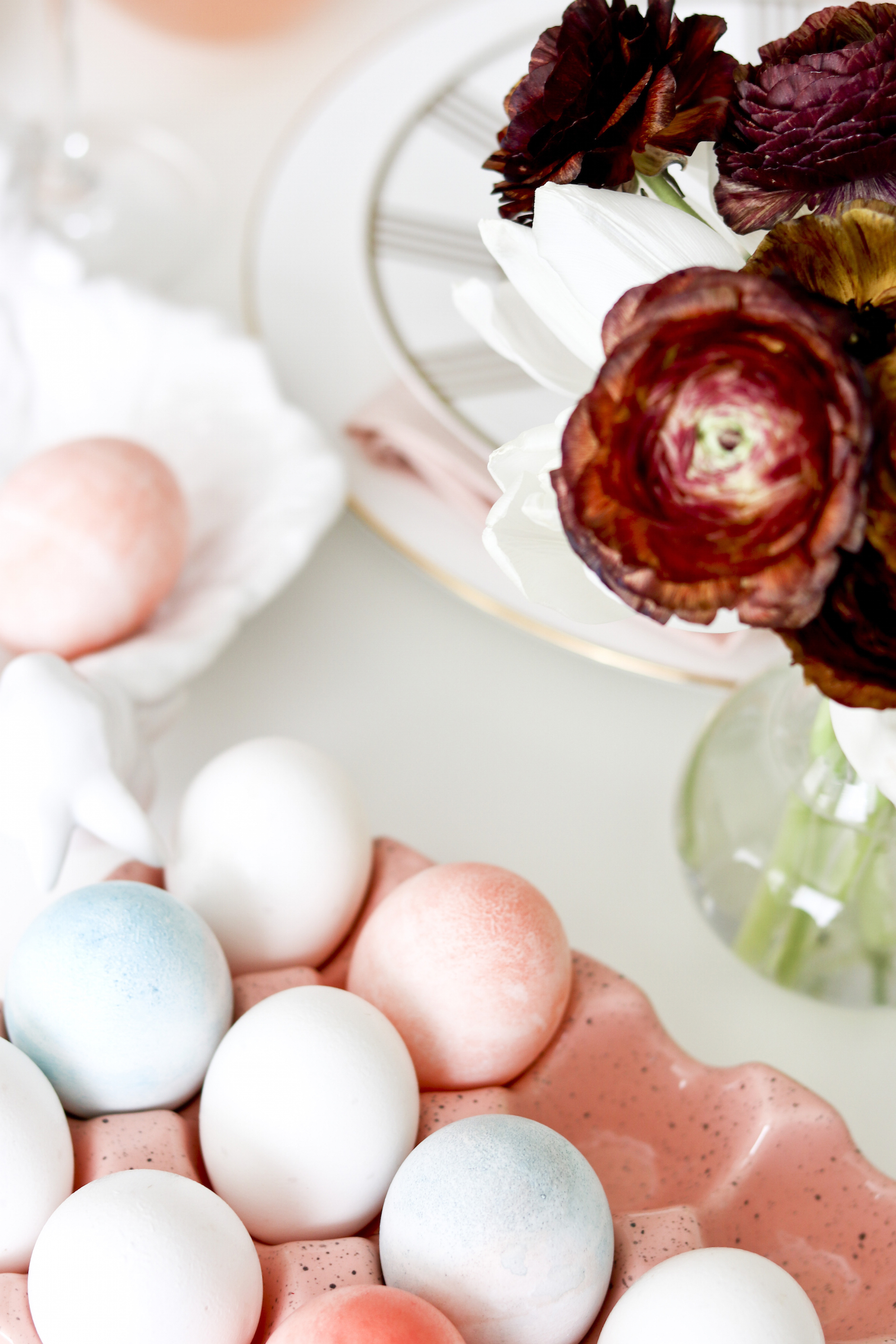 Fun China Sets and Fancy Cocktails
To finish my table setting, I love bringing in some of my favorite china. I decided to offset the pastels with a chic gold flourish from the gold-embossed London plates from the Lionel Richie Home Collection. This design doesn't overpower the other color elements but seems to make them shine, if possible, even more brightly. I suggest pairing this china set with some small verdant elements that reflect the life of the season. Good choices are a few deep green leaves and a sprig of flowers.
To complete the occasion, bring in a cocktail that matches the table in both flavor and design. I particularly enjoy pink, so I suggest pairing some peach Bellini with a sweet rosé. Serving these in some gorgeous crystal wine glasses allows the color to further complement the tablescape. Spring is the time to take in some of the sweeter liquors, which are especially appreciated when served chilled on a hot day.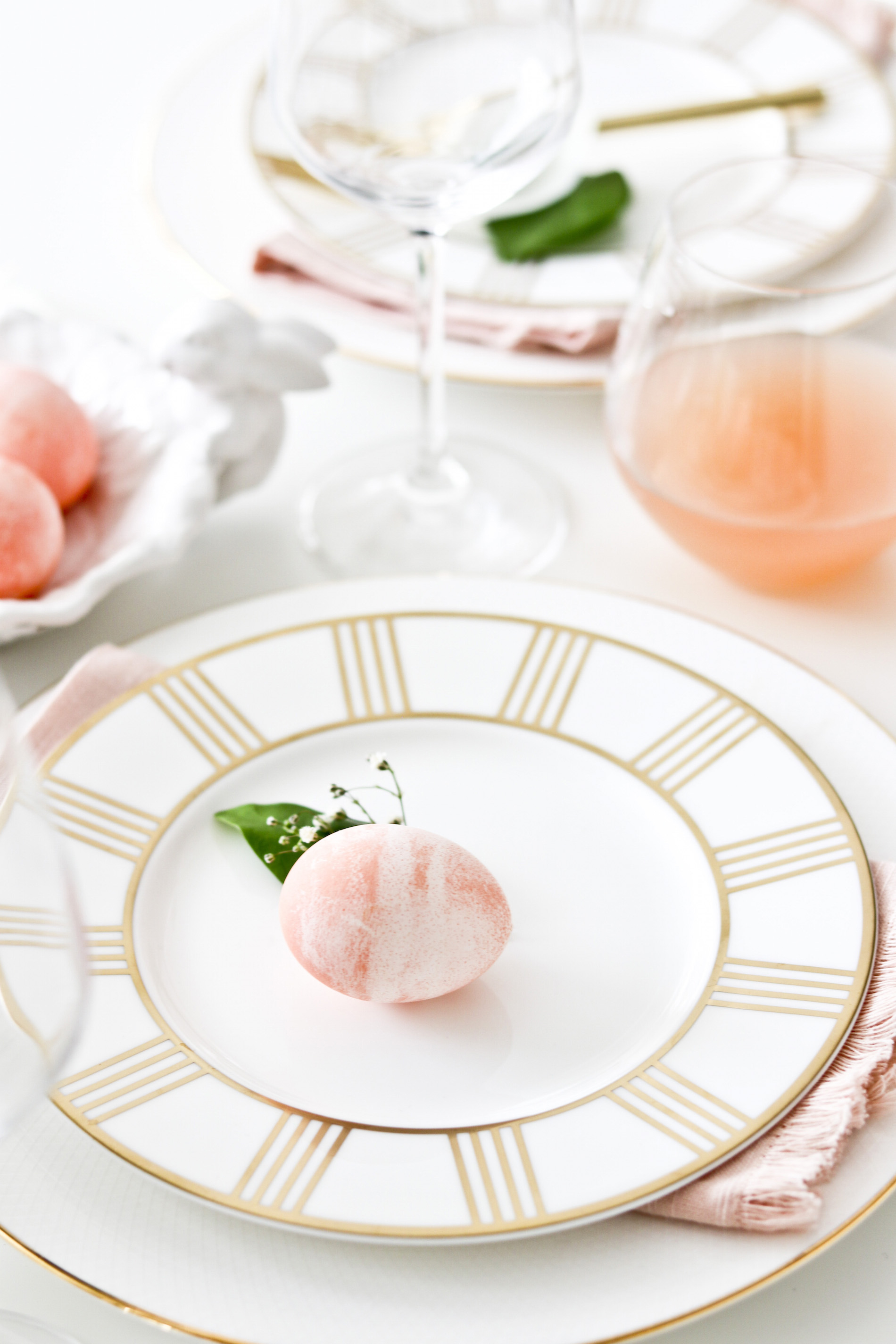 Just remember to go with the feel of the season. Think pastel colors (with a few darker accents here and there!), warmth, and rebirth (eggs, baby animals). Take in a few minutes of delicious sunlight and let the renewal and warmth of spring inspire you to design a tablescape that's just right for the Easter season. Designing a festive Easter table setting is nothing but fun and entertaining!