It's no secret that everyone in LA needs their caffeine fix—the city literally runs on coffee and tea. So, when one is trying to decide on a favorite café in this town, the thousands of choices can be a little daunting!
That's why I was thrilled to discover Alfred Tea Room. It just opened last year and is essentially the café of my dreams. It goes without saying that it's delicious, gorgeous, welcoming, and in the perfect locale! I love that it's all about tea, coffee's healthier cousin. Nestled in the heart of Melrose Place, this lovely tea shop—of the same ownership as Alfred Coffee—provides the perfect atmosphere for blogging inspiration and a much-needed break from work.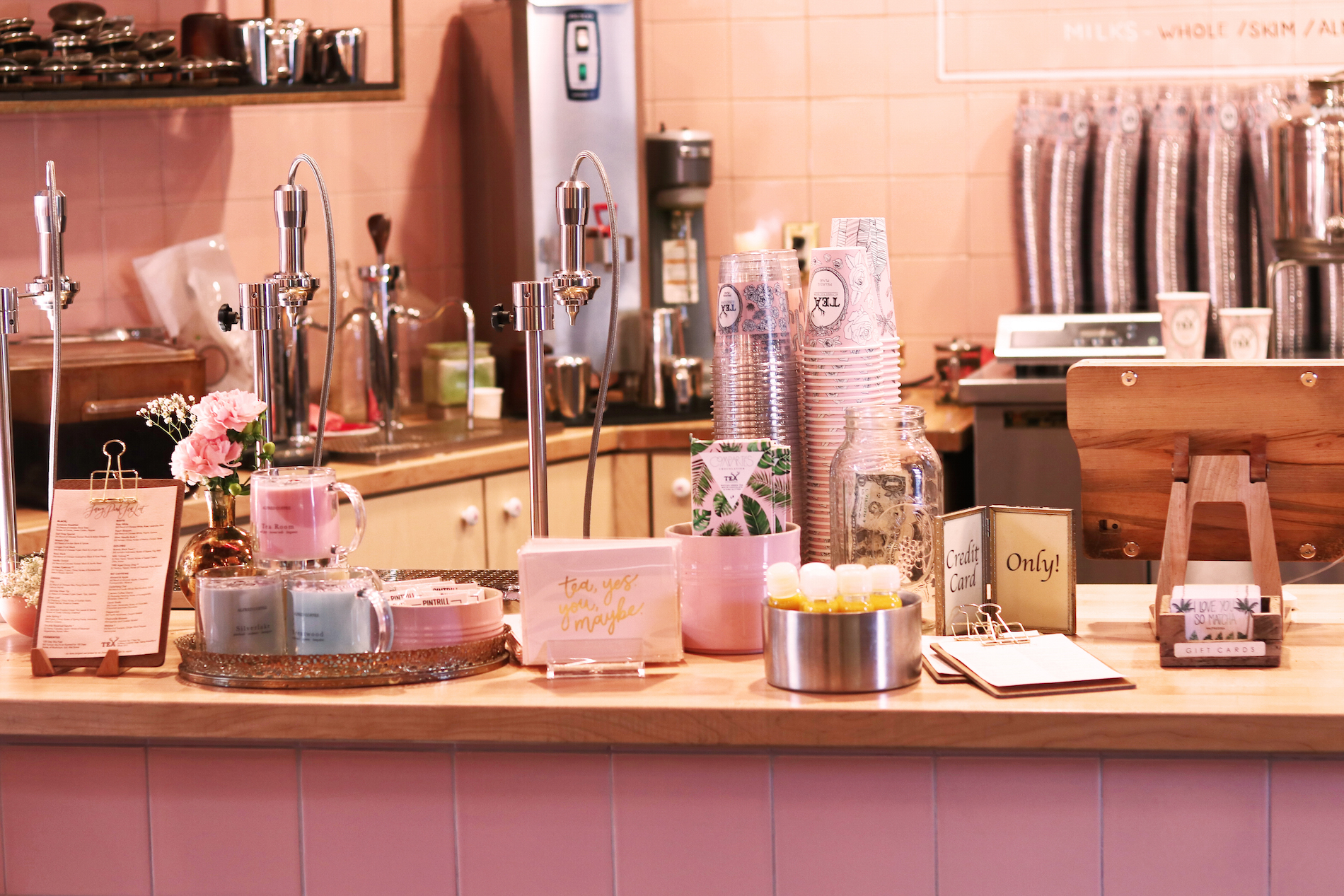 My Cup of Tea
While a lot of the city has become almost obsessed with coffee, the health benefits of tea make it so much more appealing to me. And, if you never thought you were a tea drinker, check out Alfred's extensive menu. With everything from boba to loose leaf to blended drinks, Alfred Tea Room is sure to make some concoction that tickles your taste buds.
If you don't know where to start, try my absolute favorite: their chai latte (it's simply to die for)!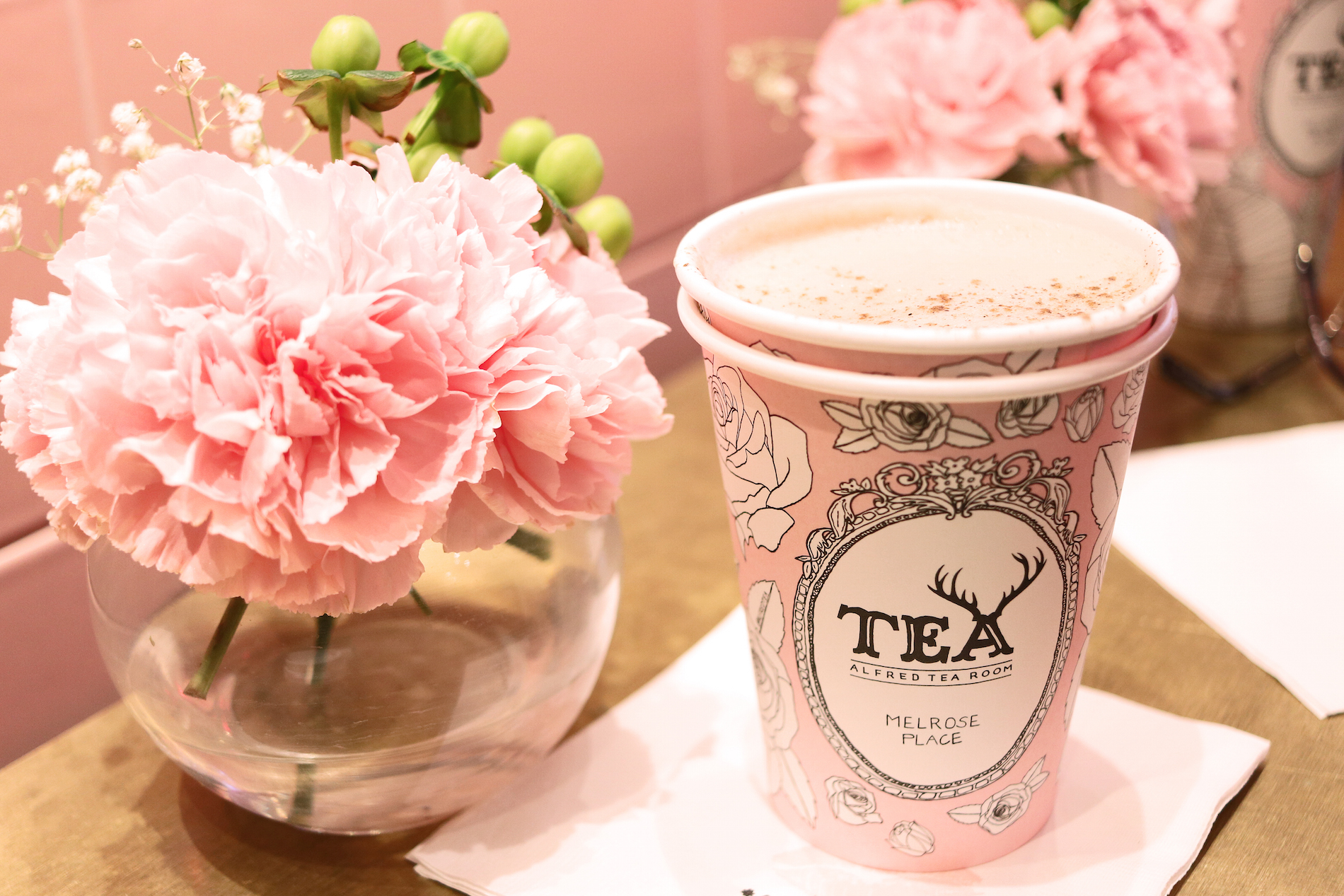 Pink Perfection
One of my favorite parts of this café, maybe even more so than their delicious drinks, is the gorgeous pink (some might call it 'blush') and black décor. It reminds me of that classic pink Chanel suit with black lapel worn by Jackie Kennedy. The colors just feel so simultaneously glamorous and fashionable.
Plus, there are so many additional sweet elements throughout the café. Amusing puns ("I love you so matcha"), mirrors, gentle lighting, and—best of all—fresh flowers make it fun!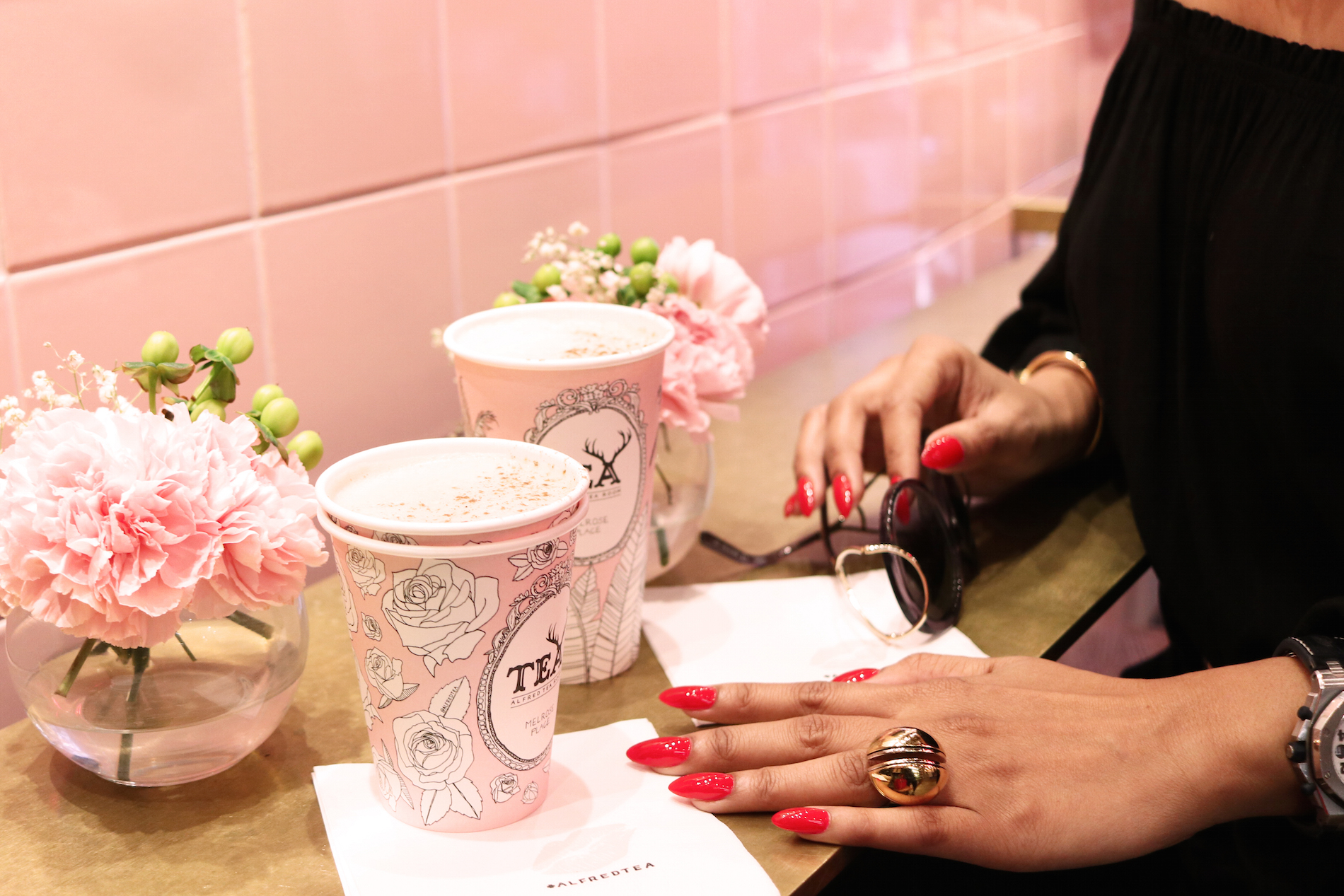 A Shopper's Retreat At Alfred Tea Room
I absolutely love popping in here to rest my feet after a long day. (I can't do Melrose without at least swinging by Violet Grey and popping in at The Apartment by The Line)—the location simply couldn't be better! It feels like a secret garden hidden in the middle of the big city. With fresh tea leaves, blooming flowers, and a soothing atmosphere, I cannot resist tp pay a visit.
Their gift area even offers little pieces of this heaven to take home. I love their cute logo and fun motto ("Tea, yes. You, maybe.") so much that I find more and more of these adorable mugs adding a splash of color to my kitchen!
Alfred Tea Room – West Hollywood's Hidden Gem
The next time you're hitting the shops, stop by this hidden gem to take in the delicious blend of tea and fresh flowers. Then check out their fancy pink tea menu, daily specials, and classic items. Alfred Tea Room has everything to treat yourself to an unparalleled cup of tea.